When you're choosing shipping mailers and packaging for your eCommerce business, there are many things to keep in mind. You need a package that not only looks good, but is easy to assemble, streamlines your shipping process and cuts your postage costs.
That's why shipping mailers are the favored packaging option of many eCommerce stores. After all, why should you use big bulky, expensive corrugated boxes to ship your non-fragile, small merchandise if it'll make your business less profitable?
But which mailer should you pick when there are a number of alternatives available? From paperboard mailers to poly bags to padded bubble mailers, each option has its pros and cons. Make the right, cost-efficient option for your business with this handy guide.
Here's a closer look at your shipping mailer options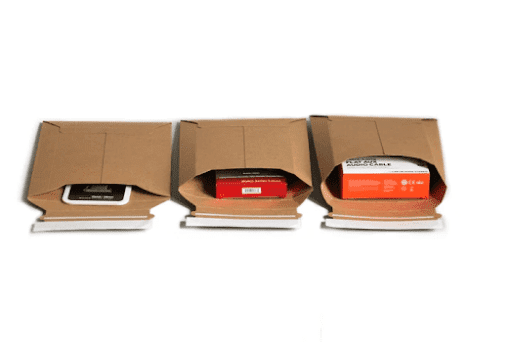 If you're looking to send items up to 2″ thick (e.g. small garments, small tech gizmos, cables, prints or products with a lot of small pieces), you'll want to use paperboard mailers. They're designed to be sturdy and rigid and keep fragile items flat during the shipping process. 
Unlike traditional paperboard mailers, Best Mailer, by Conformer is made from a patented design, allowing them to expand when needed, up to 2".  This unique design means Best Mailers t help you pack fast, ship faster and cut shipping costs all around. Best Mailer's are available in many sizes and are made from 100% recycled materials, and are 100% recyclable. 
Compared to bubble and poly mailers, paperboard mailers self-seal and require no tape or void fill and save up to 75% on storage space, while expanding up to 2" to fit your product. You can also add a personal touch to your packaging design with your logo and branding. 
When shipped via Parcel Select Lightweight, Best Mailers paperboard mailers are the perfect combination of lightweight, versatile, and sustainable packaging.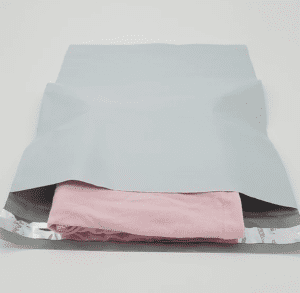 Poly mailers, or poly bags, are light-weight, protective envelopes made from moisture-resistant polyethylene film. They're durable and weather-proof. You'll find them in many different sizes and they typically come in grey and white, but can be ordered in custom colors. Printing on a poly bag is available, though print options are limited and minimum order quantities are high. Poly bags are typically made from virgin plastic and are not widely accepted as recyclable.
With poly mailers, it's important to note that they don't work well if you're packaging up many types of items in one shipment. They have no structure, which makes them a poor choice for  easily damaged fragile items. You could wrap your merchandise with bubble wrap for extra security, though this adds time, expenses and inconvenience to your packing and shipping process. That's why a sturdier option like paperboard mailers is recommended in this case.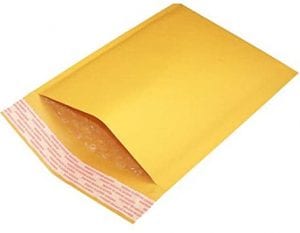 When you're shipping small and fragile items, bubble mailers are a popular packaging option. They come in plastic or paper and are lined with bubbles along the inside. They give added protection to delicate items and come in various sizes depending on your product. The larger the bubbles, the safer your package will be. 
 Even though bubble mailers add a layer of protection to your products, they are generally bulkier, less flexible, and have a higher price point than poly mailers and paperboard mailers. Another downside is that bubble mailers are easily bendable and don't keep your items in place like paperboard mailers.
Here's a recap of your shipping mailer options
eCommerce packaging comes in all shapes, sizes and forms. From kraft, padded and poly mailers to plastic mailing bags and envelopes to corrugated boxes, the options available will depend on your budget and your product size. Some of the most common that we've seen are:
Shipping Mailer Features

Poly Mailer

Bubble Mailer

Paperboard Mailer

Light-weight, moisture resistant, more flexible, low cost

Lined with bubble wrap for extra protection

Sturdy, compact, stores flat and lowers fulfillment costs, customizable design

Supplemental padding may be needed, can be flimsy or easily pierced, no protection for fragile items

Bulkier, pricier, can easily bend so it doesn't keep items flat in the package

Not water proof. Not well suited for goods over 2" thick.

Petroleum based. If you leave paper labels on poly mailers, they won't be recycled

Unless you peel the plastic lining out of the packaging, they are not recyclable

100% recyclable materials

Soft, non-fragile items like tshirts or small garments

Bulkier items like textbooks or candles

Items with tons of moving parts like jewelry, electronics, health and wellness products
Choose Your Mailers Wisely
Mailers are lightweight, flexible shopping options that allow for an easy and cost-effective way to ship your product. Often similar to a large envelope with more security, they come in different variations like poly mailers, kraft mailers, bubble mailers (i.e. padded mailers). Best Mailer is a leading ecommerce packaging option combining the best features of all the mailer variations available when it comes to cost efficiency, security,  and design.