"They are easy to store in our warehouse, simple and quick to pack and ship for our employees, lightweight to help with shipping costs, but also extremely durable and strong in transit. (We also love that they are eco-friendly)." – Melissa H., Founder, Honey Bee Stamps
Who says eco-friendly packaging has to be dull, flimsy, or bulky? Best Mailer offers small parcel packaging that helps businesses thrive while being gentle on the planet. Our heavy-duty mailers are extra thick to keep your products safe. Our mailer are made from 100% paper, are 100% recyclable and 100% compostable. Here are eight benefits of using eco-friendly packaging.
Eco-Friendly Packaging Benefits
Reduces Your Carbon Footprint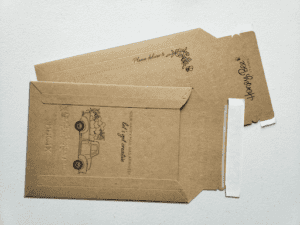 Eco-friendly packaging uses recycled waste materials, meaning materials that have been used before. Recycled content reduces the consumption of natural resources and has a smaller environmental impact. According to a study from ScienceDirect, recyclable packaging has a much lower environmental footprint (75% in global warming potential (GWP), 60% in eutrophication, and 95% reduction in waste).
Easy To Dispose Of 
Another benefit of using plastic-free eco-friendly packaging is that it's easy to dispose of once customers are done with it. Once shoppers open their small parcels and take out their items, they can simply throw the package into the recycling bin. Easy, peasy! 
Compostable 
Unlike plastic packaging, 100% paper-based packaging printed with soy-based inks are biodegradable, i.e. it can decompose or break down naturally by microbial action. Being biodegradable means that after a package has lived out its life, it can be disposed of naturally without releasing toxins into the air or ground. 
Versatile 
Eco-friendly materials can be used to make a variety of different business packaging options. At Best Mailer, we offer heavy-duty, lightweight mailers in a range of small parcel sizes. You can ship everything from a necklace to a t-shirt while feeling good about its minimal environmental impact. 
Brand Image 
A recent study from First Insight and the Baker Retailing Center at the Wharton School of the University of Pennsylvania showed that a desire to help the environment was the driving force behind consumers purchasing sustainable products and brands. Almost 30% say they want to improve the environment, with 23% wishing to reduce production waste, and 22% wishing to reduce their carbon footprint. Eco-friendly packaging can help your brand project its commitment to sustainability by "walking the walk" not just "talking the talk." 
Non-Toxic 
Plastic packaging methods and materials contribute to global warming and environmental degradation. Not only do plastic products not break down after use, but they also require a lot of energy to produce and can leach toxic chemicals into groundwater and oceans. 
Save On Packaging and Postage
At Best Mailer, we've created lightweight packaging that costs less to ship to customers than big bulky boxes. Cut UPS, USPS, and FedEx rates with compact, lightweight packaging.
Creates Brand Loyalty 
Finally, eco-friendly packaging creates brand loyalty. The demand for sustainable, eco-friendly products and packaging is growing. The Business of Sustainability Index found that  77% of Americans are concerned about the environmental impact of products they buy. By investing in green packaging, your brand is showing that it cares about the planet and the people within it. This aligns with customer values and fosters a connection.
Get To Know Us
At Best Mailer, we're on a mission to reduce plastic packaging waste and help eCommerce businesses stay eco-conscious. Our kraft mailers are made of 100% paper, are 100% recyclable, and are 100% compostable. Give your customers peace of mind knowing they can toss your mailers in the recycle bin. 
Order a trial kit, and we'll send 10 of our 100% sustainable mailers to your door right now. What are you waiting for? Click to order a sample kit. 
"Conformer's work on our top-level marketing/sales projects have been well-received and more than satisfactory. Through their suggestions, we have saved money and used greener products all within tight timelines and restricted budgets." –Theresa L., Procurement Specialist, Siemens Hearing Instruments, Inc.